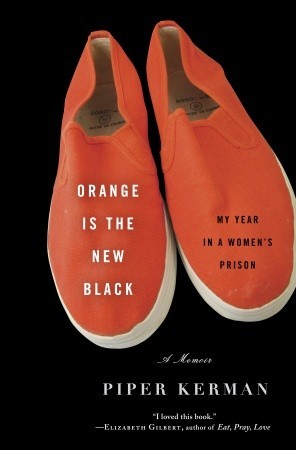 Originally reviewed on Goodreads 
I think if I had read this book first before I watched the Netflix show I might've had a glowing opinion of it but alas, I saw the Netflix show first and so I kept comparing it to the show. 
I also read the book after hearing Piper Kerman talk at my alma mater, Denison University, so I already had some pre-conceived notions of Kerman. The TV show and listening to her speak inspired me to pick up and read the book one weekend. 
 The book is a full frontal look at what it's like in a low level security prison and a critique of the American prison and justice system. 
I appreciated how reflective and honest Kerman was. She wasn't afraid to admit the things she did or admit that she's flawed too. In that sense, it's not so much an autobiography but rather a re-telling of this important time in her life. 
My main problem with the book was sometimes I felt the book did a lot of telling and not showing. It felt like someone was telling me about prison and I wasn't there in prison with her. That was disappointing to me because I wanted to be in the moment with Kerman. 
 For fans of the tv show, like me, the book is so different. 
Some of the events in the book show up in the tv show but in new ways or out of order. Also, the names of the characters are different. 
One of my favorite parts of the book was the last chapter where Kerman shares resources and non-profits that are working on changing America's prison system.
I admire that Kerman now volunteers at the Ohio Reformatory for Women in Marysville. She's inspired me to apply to volunteer at that same prison. I completed all the paperwork and now I'm waiting to attend volunteer orientation. 
Overall, despite my criticism, I'd read the book again and recommend it to someone wanting an informative and enlightening read.