This is from my Goodreads review of I'll Give You the Sun by Jandy Nelson 
I have mixed thoughts on this book.
At first, I rolled my eyes while reading and was like "Are you serious?" because some of the hyperboles, metaphors, similes, whatever you want to call them, were just too much. I remembered how much I liked her last book, The Sky is Everywhere, so I kept reading.
I ended up staying up late to finish the book. You know it's good when you keep reading instead of going to bed. I suppose I did grow close to the characters and became invested in the plot. I didn't realize I was starting to care so much about Noah and Jude.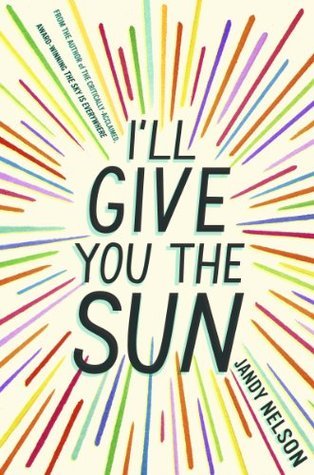 The book is written in alternating points of views. Part of it is told from Noah when he is about 13 and the other part is from Jude when she is about 16. They are twins and are both very artistic. Before the action starts happening, we realize that Jude and Noah used to be really close but now they don't speak to each other. Whenever Jude tries to make a piece of art, it breaks. Seeking help, she reaches out to a well-known sculptor who changes her life forever. Through their alternating points of views, we slowly piece things together about what happened to Jude and Noah's family.
I liked the ending and how things all came together. I won't spoil it. If you hang in there til the end, it's worth it.
I think Nelson did a good job with putting her characters in tough situations, making them do awful (arguably unforgivable) things but she still loved her characters. Some authors I think would be afraid to make their characters do such things but she lets them happen and lets the characters face the consequences.
I'd recommend this book for young adults, teenagers and especially those studying literature, writing or screenwriting. It's good story-telling.
It doesn't get five stars for a reason that I think is why so many other people have given it five-star reviews. The writing style. You either hate it or love it.  I found it to be distracting this time. In her previous book, I really enjoyed the style and it worked for that novel. In this one it felt forced and comical (in a bad way.) I get that it's a unique way of writing but it's not for everyone all the time.