Wednesday December 17, 2014 4:18 PM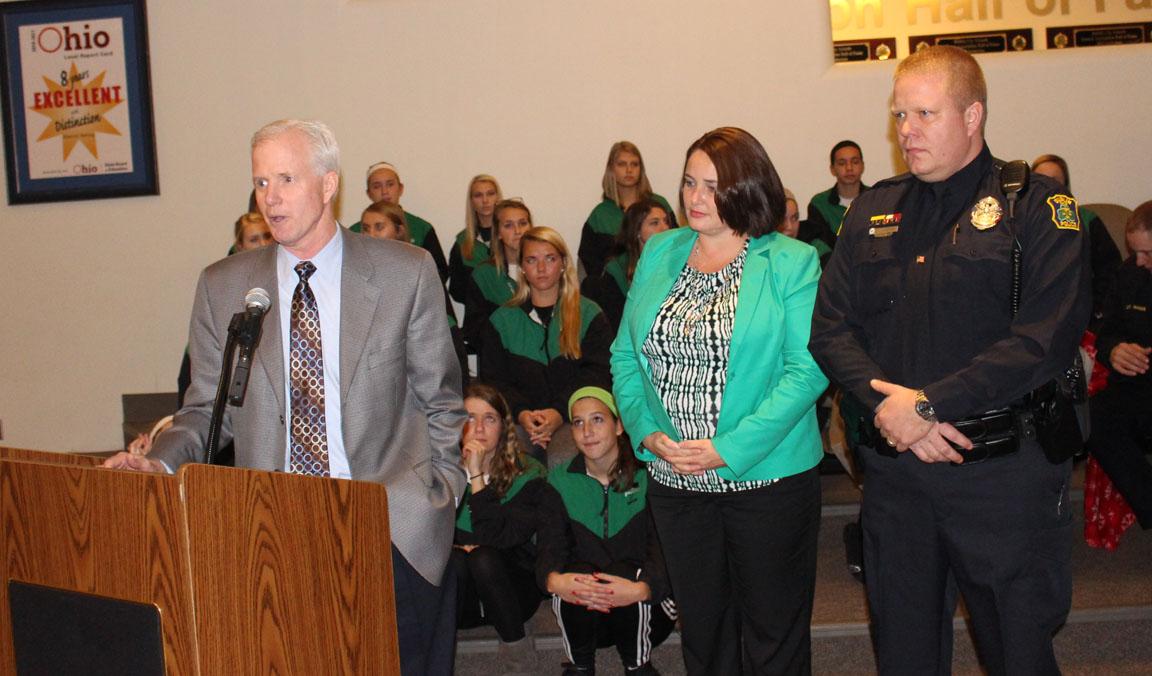 Bob Scott recognizes Heidi Wess and Scott Nimmo
at the board meeting for Exemplary Service in a Medical Emergency
(from Dublin City Schools Twitter)
On Mon. Dec. 8, the Dublin School Board met for the last time this year. The Gifted Education task force created a service model draft and the Middle School Schedule task force is gathering parent feedback.
Rick Weininger, board member and chair of the Facility task force, told the board that the engineering architectural firm of Garmann/Miller will formally present their findings at the Jan. 12 board meeting. The firm has been reviewing the elementary schools to determine which ones would be most effective to add onto. A design team for the project will be recommended by the board at the Jan. 26 meeting.
The Gifted Education Task force reviewed research about best practices in serving gifted students. They also completed an analysis of the current Dublin student population to see how many gifted students there are currently. Secondary staff reviewed the data and a draft model for the Gifted Service Delivery was created. The draft was presented to community members for feedback on Dec. 9, 10 and 15. The draft will be revised in January and a final draft will be reached in March.
The Middle School Schedule Task Force reviewed their results from the survey they gave to middles school teachers. Dr. Dustin Miller, Director of Secondary Education and chair of the task force, said that the teachers expressed a need to have a schedule that gives students an opportunity in related arts, easy access to multiple grade level courses and where courses are not primarily pitted against one another. The teachers also suggested offering more purposeful meeting times between students and teachers outside of class. The task force will be releasing a survey to middle school parents to hear their feedback. They will also be scheduling community nights at each middle school in January.
In regards to the Staffing Plan Task Force, board member Chris Valentine, explained that they have been working with the Gifted Education, Facilities and Middle School Schedule task forces to discuss possible future staffing needs. They also discussed staffing for the Review of Educational Service Center for Central Ohio.
Page A12 of the Dec. 18 issue
Additionally, the Chapman Elementary School PTO donated $9,375.00 for 25 iPads
for Chapman.
The Board presented Golden Shamrock awards to Jamie Riley, a librarian at Pinney Elementary and to Cathy Rodenheffer, an Intervention Specialist at Davis Middle School.
Those who nominated Riley described her as "positively impacting every K-5 student" and "being a fun and motivational colleague."
Parents said that Riley "reinvented the library" and that now "students enjoy the library."
When she accepted the award, she thanked those who nominated her and said "as teachers we often don't get to hear how people feel about us and it is very nice to be so appreciated."
When Davis' assistant principal, Ali Moore, introduced Rodenheffer, he read that one person wrote in their nomination, "I'm a better teacher and person because I know her."
Parents said that she has "angelic patience" and is "a perfect example of what a teacher should be."
The board also recognized Heidi Wess, school nurse, and Officer Brian Nimmo, School Resource Officer, at Scioto High School. They were recognized for "exemplary service in a medical emergency."
Scioto's principal, Bob Scott, described how on Nov. 25, the head custodian suffered a "massive heart attack and went down."
Wess and Nimmo "flew in," ushered students out of the cafeteria, began chest compressions and used the AED machine twice.
"Their calmness was exemplary. It was a miracle that these two stepped in at the right moment. We can't thank them enough," Scott said. They received a standing ovation from the audience.
The Dublin Coffman Girls Soccer Team was recognized for being State Runner-ups.
This will be the last board meeting with paper agendas. Next year, the board will use BoardDocs to offer digital agendas.
There were about 100 people in attendance at the start of the meeting. Scott Melody, board member, and Stu Harris, Board Vice President, were not able to attend.